click for prev
click for next
back to top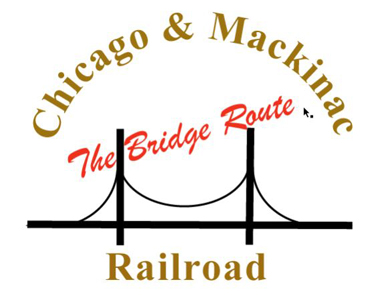 Bob Osborn
Chicago & Mackinac Railroad
The railroad that could have been.
The C&M is a proto-freelanced railroad that follows the ex-Grand Rapids & Indiana (ex-PRR) from Fort Wayne, IN (staging) through Grand Rapids north to Mackinaw City, MI. The Chicago & Mackinac RR formed a joint venture with the Pennsy and the Canadian National RR in 1960 and the current time period is the summer of 1967. It is an intrastate rag-tag railroad that is starting to pick up momentum and beginning to become successful. .
The railroad utilizes a multi-deck, partial mushroom design to squeeze about 130 feet of single track mainline, with sidings, into one stall of a two car garage. Scenery is about 60% complete and is progressing. Operating positions consist of a superintendent/dispatcher, a yardmaster and 4 road crews to handle the switching duties which include the Grand Rapids Industrial District (the GRIND), Traverse City, Petoskey and Mackinaw City, along with the Chief Wawatum, a railroad car ferry out of Mackinaw City (north staging)
The C&M uses car cards & waybills to route traffic and is powered by CVP EasyDCC wireless throttles. It is an all ALCO railroad with most of the motive power having onboard sound. When operating, there is a 46" duck-under that may need to be negotiated.
Revised 12/10/2018